With so much advice available to those that are trying to stop drinking, it is hard to distinguish the personal and practical advice to help break the alcohol addiction. Not every tip works for everyone and there will never be one guaranteed procedure to cure the problem.
Fortunately, there is some common ground that exists between all those that are struggling with an alcohol addiction. It is important to find the common ground that relates to you and to follow some tips that seem reasonably close to your situation, especially if they have worked for others.
Though everybody's reason for drinking alcohol is not the same, it is safe to assume that if you are struggling to break the alcohol addiction then you can come up with at least one reason why you drink alcohol.
For example, if you drink to escape an unsolved problem in your life or depression, then alcohol may not be the root problem. It could be that your focus should change to what is really the cause of the depression and your energy used in dealing with it in a healthy manner.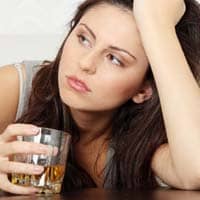 While drinking may make you feel good, it is vital to realize that you are feeling bad while you were sober. It is probably time for some life changes if your only way of feeling better is by drinking to escape the real world.
Bad habits can become a part of your life slowly while you are trying to cope with worry, stress, or loss. Developing a certain skill may be a good stepping stone on the path to help decrease your reliance on alcohol.
Worry, fear and anxiety are common in today's society and it is often overlooked and accepted as a way of life for too long.
Having a drink after a stressful day becomes habitual and the proper coping skills are never developed. If these skills are developed, the reason for drinking can disappear and break the alcohol addiction.
One major hindrance to a person trying to break the alcohol addiction is a lifestyle that forces them to be surrounded by friends, family, and people drinking.
If you want to stop drinking, it is important that you include friends who are supportive and will do things that do not put you in a tempting environment.
Also, remember that lifestyle changes may not happen overnight. It is not the alcohol that is harmful, but the abuse of it. So, if you do plan to drink, make sure to have a friend with you that understands your commitment and will help you both limit the amount.