Getting enough sleep while pregnant is a very daunting task. Most pregnant women have troubles getting enough rest during the night because of back pain, frequent trips to the bathroom, and different sleep disorders.
Feeling anxious about the delivery and labor doesn't help when it comes to falling asleep, neither does being nervous when thinking about future motherhood. All these things make it almost impossible to get enough rest at night.
Another thing that contributes to the sleep deprivation is the wrong sleeping surface. Many soon to be moms have back pain and hip pain because they sleep on the wrong mattress.
Carrying a child is a huge deal, and if you are a pregnant woman, you deserve to treat yourself with a product that will help you get more rest during the night. Many options are available on the market that are suitable to the needs of a pregnant woman and their changing bodies, such as Nectar Sleep Mattress.
Keep in mind that you sleep for two now, and it is important to rest properly. However, all moms know that getting a good night's sleep is easier said than done. That's why you need all the help that you can get. It is essential to have a sleeping surface with features that appeal to the needs of pregnant women.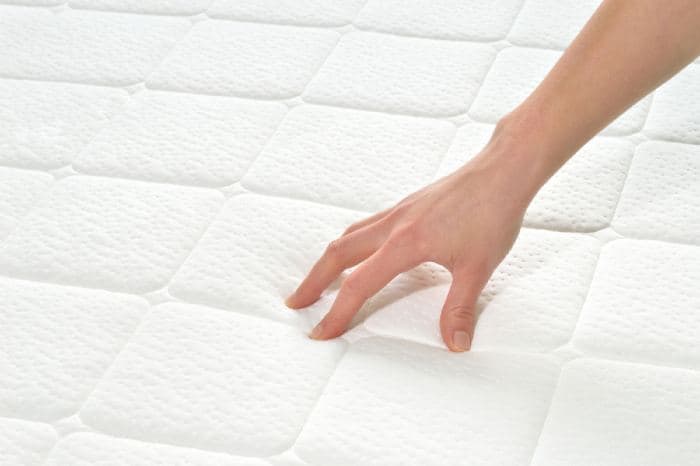 You should be aware that choosing a too soft mattress is not advisable as they usually don't provide the right support. If you sleep on a too soft surface, your body will sink into it instead of staying on top, in an upright position.
Although they are quite comfortable at first, they can result in more harm than good in the long run. Also, they are not a good solution as they can make getting up difficult because of the softness. Pregnant women get up at least a few times at night to go to the bathroom, and the last thing they need is not to be able to get out of the bed.
Too firm mattresses are also not a good idea as they can put a lot of pressure on joints and bones. Additionally, they don't allow for weight to be distributed just right. The best option is to choose a medium mattress that has enough soft layers to provide comfort and take the pressure off bones and joints but is firm enough not to provide the feeling of sinking into it.
Most pregnant women tend to sleep hot. They usually prefer a cool sleeping surface because they can't get cool enough when carrying a baby. Most of them have night sweats that are caused by changes in hormone levels. Usually, they complain about not being able to get enough rest because of the hot sleeping surface.
If you are pregnant, it would be the best idea to find a mattress with gel infused layer on top that provides a pleasant cooling feeling. It is not mandatory, but you will appreciate it a lot if you treat yourself with a mattress with cooling features. Many models with these features are available, and they have special cooling technology that aids in airflow circulation.
Most women prefer memory foam mattresses when pregnant because they are excellent when it comes to the proper weight distribution. They usually distribute the weight evenly so that there is no additional pressure on hips and shoulders. Also, these mattresses have excellent motion isolation.
If your partner moves a lot while sleeping, or gets up frequently, it won't wake you up if you sleep on a surface with excellent motion transfer. You will be able to get a much-needed restful sleep.
If you are not able to get enough good night's rest while sleeping in a flat position, you may want to consider getting an adjustable bed frame. It is an excellent solution if you prefer when your body is slightly elevated. It also makes it easier to read a book or watch TV while in bed. Many soon to be moms are delighted by adjustable bases.
Of course, it is not required to sleep on a mattress made with natural materials. They have the same level of comfort and support as their non-natural competitors. However, many women are interested in healthy and eco-friendly sleeping surfaces. They want to avoid sleeping on mattresses made with pesticides, petrochemicals, chemical flame retardants, and more.
Natural mattresses are excellent for women who suffer from breathing problems and allergies, and they don't contain toxins.
Image Credits
Feature Image Credit: shutterstock.com
Inpost Image Credit: shutterstock.com